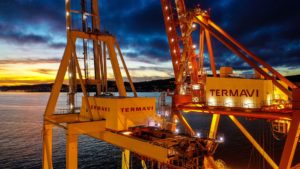 The containers Terminal of Puerto de Vigo- TERMAVI- betting on MANSIS Asset Management as an ideal solution to computerize the entire asset management of the company.
Also, MANSIS Asset Management can control all administrative management. The
Work Order Management
Preventive and Legal Maintenance.
Management of contracts with external suppliers.
Warehouse and purchases Management
Quality Management
Building Project Management
Human Resources and Shifts Management
Port Activity Control
Workshop Management
Invoicing ( in all areas: Containers, Workshops, Cold, BIP, etc
BIP (Border Inspection Post) Management
The CMMS implementation process has been a major milestone due to the magnitude of the modules to be implemented.
The control of invoicing in a fully automated way has led to significant improvements in the management of the company.
All of this has resulted in a significant improvement in daily work, as well as significant cost savings in the control of management, warehousing and external contractors.