Solutions
Take total control of your business
Mega Sistemas is a software firm specialized in the development of business management solutions.
Our solutions are based on the extensive experience of our software and project implementation engineers, through in-depth analysis of each case.
We meet the requirements of different industry sectors, adapting our solutions to the specific needs of each client.
Global scope
MANSIS design responds to the BPM methodology (Business Process Methodology), covering the areas of assets, services, project and logistics management, combined with BIM simulations and designs, adaptable to any organization.
Advantages
Management of interrelated business sites and organizations

Control of simultaneous production processes

Total traceability of all operations

Planning and monitoring

Total financial management control

Cost savings

Adaptation and parameterization
Full operational control
MANSIS's design is responsive and compatible with any type of device
Tablets

Smartphones

PDA´s

Warehouse module for PDA

GPS

RFID

Integration with CAD-BIM and REVIT

Integration with any presence control device
Video on MANSIS Solutions
Asset management efficiency
State-of-the-art technology

Comprehensive management

Multisite and multi-organisation management

Cost control per business area and cost center

Integrability with any existing corporate system

Integrability with centralized management systems such as SCADAS-BMS

Monitoring of contracts with external suppliers

Geolocation

Overall traceability of all operations

Incidence management – User support/Call center

Intuitive and flexible
Public Concessions management
Service Level Indicators management (SLA)
Contract Management
Maintenance
Traceability
Project management
Construction projects
management
Guarantees and Insurance management
Amortisations
Nomenclature
Standardization
Warehouses
Equity
Surveys
Quality Control manuals
Process flow Diagrams
Building plans
Images
File management
Public Concessions management
Service Level Indicators management (SLA)
Contract Management
Maintenance
Traceability
Project
Surveys
Equity
Images
Warehouses
Construction
Building plans
Nomenclature
Amortizaciones
Standardization
Quality Control manuals
Guarantees and Insurance management
Process flow Diagrams
File management
Return on Investment
Productivity increase
Planned maintenance on assets improves productivity by up to 25%
Cost reduction
The implementation of preventive processes through MANSIS contributes to costs reduction by up to 30%.
Extended useful life
The implementation of preventive protocols over fixed and non-fixed assets helps extending their useful life by up to 50%.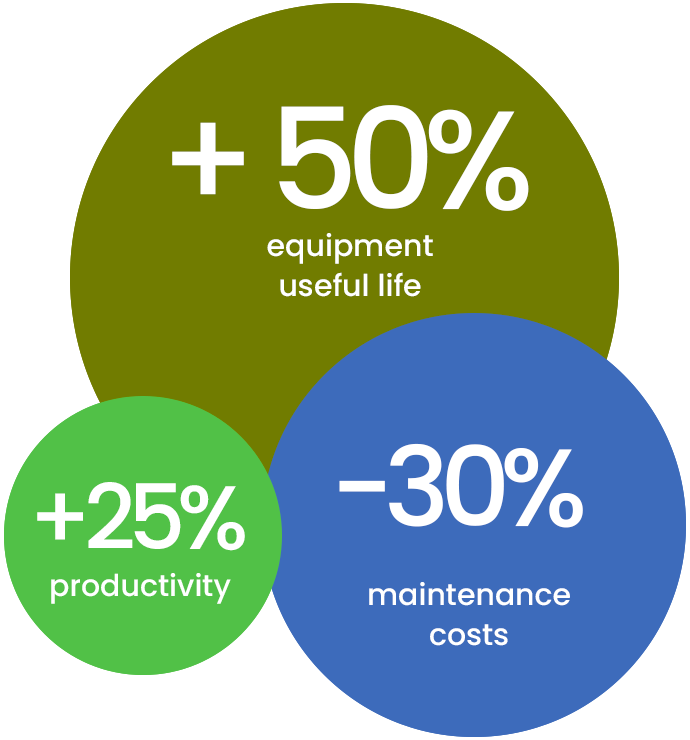 Request a MANSIS demo
Learn how MANSIS can help you improving your business